Meatloaf with roasted potatoes recipe
How can I serve the mixture of ground meat filled with mash potatoes left from the preparation of meatballs ? I don't like to waste food, so yesterday I defrosted the mixture of ground meat filled with mash potatoes and prepared a meatloaf. I served it with the roasted potatoes.
Ingredients for 2-3 people
potatoes 3

ground beef  300 gr

parsley

salt

garlic
Preparation for a fresh meatloaf 
Boil the potatoes and when your potatoes are cooked, drain and remove the outer husk.

Now, mash potatoes.
In a large bowl, add the mash potatoes and ground meat.
Add the parsley, 1 chopped garlic or dried garlic, salt and pepper , only if you like it, to your mixture of ground beef and mash potatoes.
With clean hands, scrunch and mix everything up well, until the mixture is smooth.
If you have this mixture in the fridge you can prepare your first meatloaf, as I did. In fact, I used the mixture left from my previous recipe: how to prepare meatballs with mash potatoes which I froze few days ago.  
Make a big sausage with the dough, which you have previously thawed like mine.
Preheat oven to 180-200 degrees and cook until golden brown color.
In the photo above, you can have an idea how your meatloaf should look like.
Roll the meatloaf in the bread crumbs.
Place it on a pan with potatoes, add the spices that you like more and bake it in the oven. In my case, I used herbs of Provence.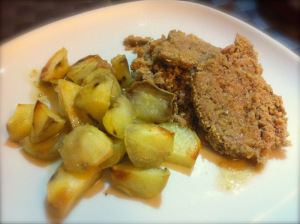 Tip: Don't worry if it will break a little bit because no egg has been used in this recipe… If you will add one to the mixture, it won't happen but It is no so necessary. It is just another ingredients that you can add, if it suits you.
Serve with your favourite vegetables. In this case, I served with roasted potatoes which I roasted in the oven.
 I love meatloaf, it brings me to my child hood. Hope you will like it as much I did this evening. 
Alessandra Simple Recipes