Savoury Crepes with Ricotta Cheese, Spinach and Bechamel Sauce
In this post you will learn how to make Savoury Crepes with Ricotta cheese, spinach and bechamel sauce
Savoury Crepes are made by pouring a thin liquid batter onto a hot frying pan or flat circular hot plate, often with a trace of butter on the pan's surface. The batter is spread evenly over the cooking surface of the pan or plate either by tilting the pan or by distributing the batter with an offset spatula.
Common savoury fillings for crepes are cheese, ricotta cheese, ham, eggs, ratatouille, mushrooms, artichoke (in certain regions), spinaches, and various meat products. The fillings are commonly added to the center of the crepe and served with the edges partially folded over the center.
Ingredients for the filling of savoury crepes
Grounded nutmeg: 1 pinch

Frozen spinaches: 250 g

Ricotta cheese: 250 g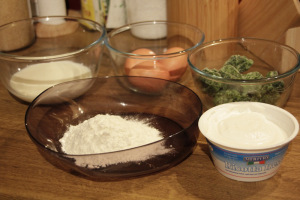 First Prepare the Béchamel Sauce
Before preparing the crepes you need to make the béchamel sauce. You don't need to buy a ready made béchamel because you can make it on your own: it tastes much better than the ones sold on the supermarkets. You can find the recipe in this post called How to make béchamel sauce from scratch.
Preparation of the filling for the savoury crepes
Boil the frozen spinaches until tender.

Dry well your spinaches.
Pour into a medium bowl the ricotta cheese with the spinaches
Add a pinch of nutmeg.
Preparation of savoury crepes
In a large bowl sift the flour and m

ake a well in the center.

Pour into the center the milk, eggs and salt. Then m

ix until smooth.

Heat a small nonstick or crepe pan over medium heat. Brush pan with some oil.

Pour approximately 4 tablespoons batter into center of pan, swirling pan to coat.
Cook for about 1 minute or until bottom is a light golden color. Flip and cook for 30 seconds. Transfer to plate. Repeat with remaining batter.
Divide the spinach mixture between the crepes adding 2 tablespoons of the filling to the center of each crepe.
Fold the edges partially over the center. Repeat it again to make a smaller crepe.
Now pour the béchamel sauce that you prepared before over the bottom of an ovenproof dish.
Then lay the stuffed crepes on the béchamel base taking one crepe at the time, and add a layer of béchamel sauce on the top of each crepe before placing the second crepes over.
Repeat this process until you complete the first and second row of crepes.
Cover the crepes with lots of grated Parmesan cheese.
Preheat the oven 200 degree.
Bake the crepes for 20-30 minutes. The crepes are ready when they are golden and brown on the top.
Serve the crepes when still warm.
I wish you an happy dinner and I hope that you will like these crepes as much I did.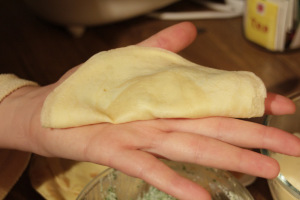 Alessandra