Puff Pastry Stuffed with Spinach, Cheese and Sausages Recipe
How to prepare a dinner in 15 mins and with just 4 ingredients that you might have in the fridge?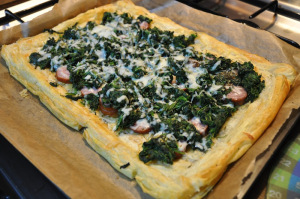 Last evening, I didn't have a clue what to make for dinner, so out the blue I prepared a puff pastry stuffed with spinach, cheese and sausages. I had a pastry in the fridge, some frozen french sausages and also some frozen spinaches which turned so useful to serve this main course for dinner.
Ingredients: 
puff pastry

sausages
spinach
herbs as dressing (parsley, chives, oregano, salt)
cheese
Preparation 15-20 mins
Prepare the baking sheet, cover with balking paper

Hole the puff pastry with a fork.
Cover the puff pastry with another baking paper (it will be the second one) and cover it with dried chickpeas and beans. This will help the puff pastry not to inflate.
Boil spinach, dry them well and cook spinach in a pan with some oil. Add salt to taste. You will use as topic with the sausages and the cheese.
Tip: if you prepare spinach it is better because this will give more state to puff pastry because they are cooked and not just boiled.
Preheat the oven to 180 degree and cook the puff pastry.
When the puff pastry is cooked add all the herbs to season the pastry.
Now cook the sausages if you need to do it, mine where already cooked so I just defrosted and cut them to use as topic.
Tip: you can use german sausage if you like, they are sold in Lild too.
When the puff pastry is cooked and golden, remove the baking paper and all the dried beans and chickpeas.
Tip: the pastry without the weight of chickpeas will swell. If you don't have any dried beans or chickpeas, don't worry, just take the puff pastry out the oven and hole the puff pastry with a fork again.
Now that it is cooked cover with sausages, spinaches and cheese and bake again for 10-15 mins. It should like mine in the photos added here.
Serve with your favourite beer and enjoy with your family as much I did.
Happy dinner by Ale Simple Recipes