Italian Sausages and Broccoli Recipe
Italian sausage (salsiccia, in Italian) most often refers to a style of pork sausage. In Italy, however, there are a wide a variety of sausages, that it's worth it to try them at least once. In this post I am going to give you another recipe how to serve italian sausages and broccoli.
This time I served italian sausages and broccoli for dinner, which I recommend if you didn't try them yet. You can find them in an italian shops located in Dublin, if you live in the Republic of Ireland.
Preparation: 40-60 minutes
Difficulty: easy
Ingredients for 2-3 people: 
1 large broccolo

4 fresh or frozen sausages
salt
oil
Method: If you are using frozen sausages, please defrost the sausages in the morning for the evening. Don't worry you forgot to do it. You can boil your sausages and defrost them also in this way.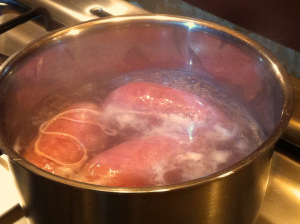 Preparation of italian sausages and broccoli:
Wash and cut broccoli.  
Tip: How to cut broccoli into florets? Cut off and discard the very bottom part of the stem since it's usually tough and fibrous all the way through. With a peeler (or a pairing knife), remove the tough outer layer of the stem to reveal the tender, lighter green flesh underneath. Separate the stem and florets with single cut. Now you can slice the stems any way you like. For quick-cooking dishes, slice the stems on the bias. For dishes that call for larger pieces, cut the stems into 2-6 cm. For roasting and braising, keep the florets large. For pastas, stir-fries, and ragouts, cut them small
Boil adding salt to taste to the water
Drain broccoli when they are tender. Set aside.
 Tip: To check if the broccoli are cooked, use a fork and if its stalk is tender, your vegetables are cooked.
Add oil to the pan and cut sausages in half lengthwise
Add the sausages to the pan.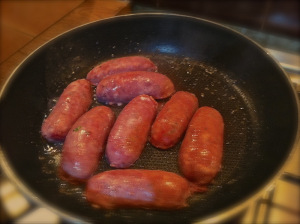 Cook the sausages until well cooked and brown-red.
turn the sausages on the other side after 5 minutes and repeat until cooked.
When the sausages are cooked as showed in the photo below, you can add broccoli to the pan.
The sausages are well cooked, so now you can pour the broccoli into the pan.
Mix gently and let it cook for 5-7 minutes so the flavors blend together.
Serve the dish in serving place or each plate, as suits you.
Wishing you a lovely dinner, I really hope that you will enjoy Italian sausages and broccoli as much I did.
Please let me know what you think, leaving me a comment below.
Alessandra Simple Recipes