Blackberries Flaugnarde Breakfast Recipe
Hello friends, I was just wondering if you would fancy a special morning breakfast? Well, maybe I can tempt you with this one: a blackberry flaugnarde which contain blackberries, which served hot and with a big mug of coffee or latte.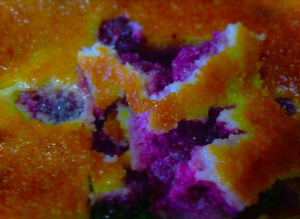 If you use black cherries instead of blackberries, you will have a clafoutis which is a baked French dessert of black cherries arranged in a buttered dish and covered with a thick flan-like batter. The clafoutis is dusted with powdered sugar and served lukewarm.

In this post, I will explain

how to prepare a blackberries flaugnarde

that is lovely or as breakfast or as dessert.  F

laugnarde

 is a baked French dessert with fruit arranged in a buttered dish and covered with a thick flan-like batter. Similar to a clafoutis, which is made with black cherries, a

flaugnarde is madewith

 apples, peaches, pears, plums, prunes or other fruits as

blackberries

. Resembling a large pancake, the dish is dusted with confectioner's sugar and can be served either warm or cold.
Few days ago, I prepared 

custard

that I reused in this recipes

. I don't like to waste food so I decided to use the custard left as garnish of blackberries flaugnarde too.
It is a simple recipe which will fill one pie dish and should be enough for two people – or one very hungry person waking up after a Friday or Saturday night…
Ingredients (for 2 people):
150g Blackberries

125g Alpro Soya Plain Yogurt

30g Ground Almonds

50g Sugar

1 Large Egg

1 level Tbsp Flour

Butter for greasing

Vanilla Sugar
Preparation of Blackberries Flaugnarde
Beat the eggs and sugar together until even.

Add the flour and ground almonds.

Beat the yogurt just so it's smooth and add to the mixture.

Butter the pie dish, spread the blackberries into it and pour the mixture over it.

Bake for 30-40 mins at 200ºC.

Just 5 mins before the baking time is up sprinkle with the vanilla sugar.
Notes: I used Alpro Soya Vanilla Yogurt  to give a particular flavour to my breakfast. Some people don't like soya product so  you can use any plain yogurt or vanilla one yogurt. Although, I recommend this one because soybeans yogurt brings a touch of lightness to both blackberries flaugnarde and blueberries pancake.
You can eat it hot or – if you can wait that long – cold. I hope you like it as much I am still doing!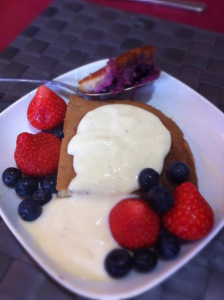 Have a lovely evening by Alessandra Simple Recipes