Sweet and Salty Saint Valentine Recipes
What can you prepare for Saint Valentine's day?
In this post there are 4 recipes which will make your Saint Valentine special and perfect from breakfast to dinner: Mini Lemon Cakes breakfast, Scones with cheese and smoked ham and cheese and salmon as stater, Heart shaped cheese Puff Pastry as main course and Chocolate cake as dessert. All these recipes are showed in the photos below.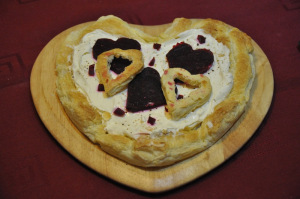 I prepared first the roses and hearts shaped lemon cakes and then the heart shaped chocolate cake. Secondly, I made the scones and as last recipe, I prepared heart shaped cheese puff pastry.
Tip: I suggest to bake the cakes the day before because the cake are tastier if they are cold. Then, you can start making your breakfast special. Leave the preparation of the the main course and the starter for the Saint Valentine's day.
Ingredients 
flour type 00, 120 g

butter 250 g
sugar 250 g granulated
eggs 4
1 Chemical yeast powder
lemon 2 (zest and its juice)
Preparation of roses and hearts shaped lemon cakes for Valentine breakfast's recipe (1)
aut the butter into small pieces and let soften at room temperature, then transfer it to a medium bowl

Add half of the sugar.

Mix until the mixture is smooth and fluffy

Add the egg yolks, one at a time.

Tip: you can use an electric mixer.

When the yolks are fully blended, add lemon zest of one lemon.
Now add the flour and baking powder together

Mix well and transfer the mixture into a large bowl.

Whisk the egg whites with the remaining sugar.

When the egg whites are almost assembled, add the juice of one lemon
Continue beating until the mixture is thick and fluffy.
Gently, add the egg whites into the mixture that you have previously prepared
Stir from the bottom up and  m

ix well the ingredients gently.
Transfer the mixture to a silicone mould and bake in a preheated oven at 180 degrees for 60 minutes.
Do the the toothpick test to check if the lemon cakes are cooked inside.
when the lemon cakes are cold, sprinkle the mini cakes with icing sugar.
Now

I am going to explain how to prepare the main course: Cheese scones  
Ingredients for 8-12 scones :
500ml flour (2 cups)

15ml baking powder (3 tsp)

large pinch salt
sprinkle of cayenne pepper/chilli powder (optional)
250ml strong cheddar cheese
15 ml vegetable oil (3 tsp)
125 ml milk (maybe a bit more depending on how it mixes)
1 egg
Preparation of scones:
Sift flour, baking powder, salt and cayenne pepper into a large bowl. Add the cheese and mix through the flour mixture.

Beat the egg and milk together in a separate bowl and add the oil. The oil replaces the butter/margarine that usually gets used to rub into the flour. By using the oil you cut down on the dreaded calories and it saves a lot of time.
Pour the milk, egg and oil mixture into the flour mixture and using a metal spoon or fork, mix the dough until it clumps together, but is not too dry. If too dry, splash a bit more milk in to use up the flour.
Press the dough out on a flat clean floured surface until it is about 5mm thick, then fold it over on top of itself (this gives the finished scones the natural "break" to cut open), flatten it again, using the palm of your hand.
Do not use a rolling pin as it is too heavy and will prevent the scones from rising.
Cut out your scones out by using a cutter (you decide on the size)
Tip: you don't have a cutter handy use a knife to give them this shape.
Place them on a baking tray, pop them in the oven at 180 degree for fifteen twenty minutes.
Serve, still warm, with Philadelphia cheese-Smoked German Ham and Philadelphia Cheese-Salmon. 
Now the Main Course: Heart shaped Puff Pastry
Ingredients for 2 people:
Rose-hip Berries ( only if you can buy them) 
4 slices of Red Beets
150 g creamy cheese (Philadelphia or similar)
3 spoons of Cream Liquid
200 g puff pastry
Black Pepper to taste
Pink Pepper to taste In Grains (you will use it to decorate the dish)
Pinch of Salt to taste
1 Egg
Tip: This recipe has as an ingredient that I didn't use (the Pink Pepper) but don't worry, I guarantee that its state will be still amazing even without it. 
Preparation of Heart shaped Puff Pastry: 
Cover the bottom and sides of a tart mould heart shape with the puffy pastry. Tip: I used a silicon mould. If you don't have one. Cover the mould with a baking paper or butter the mould.
Prick the pastry with a fork and brush the edge with beaten egg yolk

Now make from the scraps of dough in the shape of hearts, using a cutt

er.
Bake the puff pastry in the preheated oven at 200 degree for about 15 minutes until golden.
Meanwhile, work 150 g of cheese with 3 tablespoons of cream and a pinch of salt.
Place the shell pasta on a plate
Stuff it still warm with the creamy cheese 
Sprinkle with freshly ground black pepper and pink pepper berries. Tip: I didn't use the pink pepper berrie but if you have it, you can use it. I don'y like pepper but believe me, it is so perfect with this recipe.
make four hearts of beet and place them on the cake. Tip: Use a cutter biscuit.
Tip: you can decorated the dish with rose-hips  (if you have them). If you like, prepare a Bellini cocktail: fill the flutes, one-third peach juice and completed with well chilled Prosecco.
The dish is ready.
 The last recipe is the chocolate cake: 
Ingredients : 
Flour 200 gr

Sugar 200 gr
dark chocolate 100 gr
Cocoa  50 gr
Medium eggs 5 to room temperature
Baking powder powder for cakes (8g)
Fresh whole milk 50 ml
1 pinch of salt
Butter at room temperature 200 g
Preparation:
In a large bowl, place the butter, cut into cubes and let soften at room temperature. 

Beat the butter with a hand mixer until it has cream, then add the sugar and continue to whisk to mix it well. Set aside. 
Combine one egg at a time, keep beating and add the other eggs. Set aside.
Tip:  be sure that each egg is full absorbed before adding another one. In this way you will have a soft,smooth and creamy mixture.

In the microwave or double boiler, melt the chocolate chopped and let cool, stirring occasionally.

Stir in the melted chocolate with a pinch of salt. Set aside.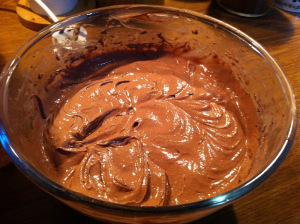 In another bowl, mix together the flour, baking powder and cocoa powder.
Add now the butter, the eggs and the melted chocolate to the mixture of flour, baking powder and cocoa powder.
Gently add the milk (not too cold).
Grease and flour a mould
Tip: I used a silicone mould, if you have, I suggest to use it. You don't have to grease and flour it.
Bake in preheated oven to 180 degrees for about 60 minutes, then do a toothpick test.

Let the cake to cool down. Then 

sprinkle

 with icing sugar.
I hope you like these recipes!
Wishing you all a wonderful day filled with lots of love.
Alessandra Simple Recipes