Mushroom Risotto: How to prepare it.
Mushroom risotto: Preparation and cooking.
Preparation of risotto doesn't require more than 20 minutes of your time. Once you have finished to read this article you will be self confident in how to make a good mushroom risotto and you will entertain your guests. It doesn't need any skills, just follow my steps.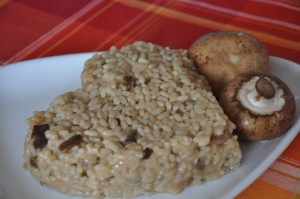 Key points for this mushroom risotto recipe (things to know before you start).

This recipe will serve 4 people.

Preparation time 15 minutes.


Cooking time is around 25 minutes.
Ingredients for a mushroom risotto:
250 gr. chopped fresh chestnuts mushroom;

Handful parsley leaves, chopped.
1 Litres vegetable broth made with 1/2 stock cube of vegetable broth and 1 litres of boiled water.
If you like the taste of vegetable flavour you can use 2 stock cubes instead of one. Some cubes have strong flavour other less, so it is up to you. For example OXO stock cubes are quite light, while Maggi or Star cubes have a stronger character.
50 grams dried mushroom, I advice you to get Porcini mushrooms for a better result and taste.
350 grams Italian Arborio rice. This risotto is thicker than basmati and takes more time to cook, but gives the right thickness to this recipe.
175 ml dry white wine. It is important that you use only a dry wine and not a sweet one, otherwise it will spoil the taste. Some grapes would be Sauvignon blanc, Pinot Gris, Chardonnay.

60 grams of finely grated Italian Parmesan cheese and 10 gr for serving.
1 red chopped onion.
1-2 table spoon of olive oil, better if Extra virgin Oil.
Preparation of mushrooms risotto:

Take 50 grams of dry Porcini mushrooms into a large bowl and pour over 1 litre boiling water. Soak for 10-20 min. Then drain into a bowl, discarding the last few tbsp of liquid left in the bowl.
I usually do not waste the porcini water left in the bowl. I will add it to the risotto while cooking with the vegetable broth.
Crumble 1/2 vegetable stock cube into the mushroom liquid, then squeeze the mushrooms gently to remove any liquid.
Wash throughly the onion and the mushrooms and pat dry them with a kitchen cloth.
Take a chopping board and start cutting the onion thinly. Move the chopped onions into a bowl and using the same chopping board, cut the chestnut mushrooms in 4 parts;
Make the vegetable broth using an empty water jar to measure liquids;
How to do the broth: pour 1 litre of boiled water into the water jar and add the second half of vegetable stock cube. Stir the water till the cube it dissolves. I use the kettle to boil the water as it is more practical.
Take a large saucepan, pour 2 table spoons of olive oil and heat it for 1-2 minutes. Add the chopped onions and let them fry for about 5 mins until soft. Stir regularly in order to not burn the onions.
Stir in 250 grams chopped chestnut mushrooms, the dried mushrooms, season with salt, parsley and continue to cook for 8 mins until the fresh mushrooms have softened. Stir them occasionally.
Tip 350 grams arborio rice, stirring it until translucent around the edges, and cook it for about 1 minute. You can see the rice became to get a golden-brown colour.
Pour over a 175 ml glass of white wine and let it bubble to nothing so the alcohol evaporates for about 1 minute.
Reduce heat to medium-low; You need to pour in first the mushroom broth and then the vegetable stock regularly while stirring the risotto. This is an important part because if you let the rice dry it will burn it on the bottom of the pan.
You can use a glass to pour in the first litre of mushroom broth. Simmer the rice, stirring often, until the rice has absorbed all the liquid. Once you used the mushroom broth, you can pour in the vegetable stock that you prepared before. It should start to become creamy, plump and tender. By the time the final ml of vegetable stock is added, the rice should be almost cooked. At the end, it will be cooked, tender but firm (al dente).
Grate a Parmesan cheese on top of the mushroom risotto. If you need, you can add a little pinch of salt.
Serve immediately risotto, garnish with additional Parmesan cheese if desired.
Tip: Risotto's secret: it is usually enriched with ample butter at the end. But one bite of this version, which contains no butter show you how delectable the dish can be without adding extra fat and calories.
If you need any advise of extra tips please do not hesitate to write me a comment in the section below. I would glad to make your day with this excellent mushroom risotto.