Prawn Courgette Linguine (Pasta) Recipe
How to prepare prawn courgette linguine easily at home.
Prawn Courgette Linguine dish is a first course very quick and easy to prepare. Its fresh flavor is guaranteed. In fact, this dish combines the freshness of two very different ingredients, but which are well joined: the zucchini and prawns. Prawn courgette linguine are also ideal in summer.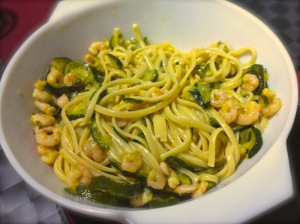 Ingredients for 2 people 
2 courgettes

frozen prawns or fresh prawns (as you prefer but then you must prepare the fish first)
1 vegetable stock cube or salt
oil
water (1/2 glass)
80/100 g per person of linguine italian pasta
Preparation of prawn courgette linguine
Wash and cut the courgettes.

How to cook courgettes into slices? 

Tip: For most dishes, courgettes needs to be sliced before cooked. Round slices are the most basic cut. They're great for grilling, broiling, and traditional dishes like prawn courgette linguine.
Add oil to the pan, when it is warm, add the courgettes.
Add some water to the pan ( less than 1/2 half glass of water) . Tip: water will help to prevent that the courgettes will stick to the pan.
Add a vegetable stock cube to the courgettes. Tip: you can use the salt instead of the vegetable stock.
Cook the courgettes until almost tender and creamy. When the courgettes are almost cooked, you can add the frozen prawns. Tip: Don't add extra water to the pan. 
Taste your dressing after 10 minutes. Tip: if it is tasteless, you can add more salt or another vegetable cube. Be careful, because the dressing should not be too salty.
Let the courgettes and prawns cook until the fish is tender.
Set aside.
Now prepare the linguine pasta

Boil the water and add salt to season the water. When water is boiling, add the linguine. 

Cook the linguine and when pasta is al dente, drain it with a pasta strainer.
Pour the linguine into the pan with the dressing previously prepared. Mix well.
Switch on the gas and let it cook for 5-7 minutes.
Serve the courgettes prawns linguine in pasta bowl and then into each plate.
I hope you will like prawn and courgette linguine as much I did.
Alessandra Simple Recipes