Prawn and Avocado Pasta Salad Recipe
Today I want to share with you an amazing and fresh recipe that I tried yesterday evening at home.
This is the nicer pasta that I have made so far. This dish is perfect during this time, where the days are getting longer, brighter and sunnier than the previous months. It could be your ideal main course in Summer too. This could be the best recipe for outdoor parties, dinners or buffets. Also it would be suitable to somebody who like healthy food.
Last week, I bought some organic seasonal vegetables and fruits online. The quality is very good, althought too expensive. In the basket that I bought, there was also one avocado. I started wondering how to use it. As native Italian, we don't have avocado in our Mediterranean diet. I am not used to this kind of fruit because it isn't so used the italian cuisine either. Nowadays, maybe habits have changed in my Country. Maybe some extrovert Italian chefs could have used this fruit for their dishes, but for me it is still something new.
I was curious and I didn't want to waste it. So I started to look for an online recipe that could help me to use the avocado. What I was looking for was a simple, easy and tasty recipe to serve for dinner.  When the food is coloured and tastes fresh, it is always a great success. This recipe can satisfy the most sophisticated and difficult palates, from my point of view.
After 5 minutes of searching online, I found exactly what I was looking for on BBC Good Food Web Page.
If you live in the Republic of Ireland, just to let you know I bought my ingredients to Lidl. Of course, you can find these ingredients in any supermarket. Below is how the dish looks like when it is ready to serve.
Ingredients for 2 people for prawn and avocado pasta salad:
300 g of cooked prawns without the shell 

200 g of penne pasta
Extra virgin olive oil
6 Cherry tomatoes halved
1 avocado, peeled, stoned, cut into cubes
1 lemon (juice and zest)
1 garlic glove, washed, peeled and chopped
dried chives to taste (1 teaspoon)
60-80 g rocket salad
Preparation: how to prepare prawn and avocado pasta salad 
While you are cooking penne, take a large and empty bowl and add the following ingredients:
lemon juice and its zest

a chopped garlic

oil,

chopped 

cherry tomatoes

dried chives

chopped avocado
Mix well but gently, not mash the avocado. The original recipe uses basil, but I decide not to use it.
When the pasta is cooked al dente, drain it with a pasta strainer. Add the mixture we prepared before to the pasta, mix again and then add prawns. Now add the rocket salad (previously rinsed under tap water).
You can transfer the pasta salad in a bigger bowl, if you need mix all ingredients much better.
What I think about this recipe:
This is a simple recipe that everyone can make easily at home, doesn't matter which skills you have. If you knew this recipe, you can agree with me. If you didn't know this recipe, try this prawn and avocado pasta salad. I really recommend it.
Don't worry if you will have some pasta left, it can be served the following day without problems. This because you can eat cold. 
Wishing you a lovely afternoon, I really hope that you will enjoy this spring recipe as much I did.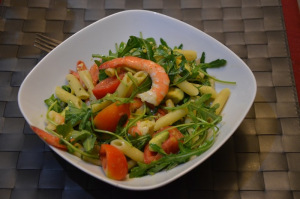 Please let me know what you think, leaving me a comment below.
Alessandra Simple Recipes