Spring Salad with Chicken, Bacon and Avocado
How to prepare a salad with chicken, bacon and avocado? The arrival of spring is a great time to seek out leafy greens, asparagus and other seasonal standouts. A salad is light and contains enough protein to be satisfying in many occasions. Since I don't overlook the satisfying nature of salads – I am seeing its benefits. Incorporate a bit of lean meat and lots of garden-fresh vegetables with a salad, and a starter is suddenly elevate to complete meal.
Ingredients:
600g skinless chicken breast
12 rashers of streaky smoked bacon
2 fresh avocados
200g fresh spinach leaves
100g fresh rocket salad
enough parmesan for shavings
For the dressing:
4 tbsp mild olive oil
1 tbsp white balsamic vinegar
juice of half a lemon
1 small clove of garlic
freshly ground pepper
pinch of salt
Preparation of salad with chicken, bacon and avocado:
Slice the chicken breast into small, thin slices.
Add a little oil to a pan and fry the chicken breast pieces on a medium high heat until well browned.

Set aside.
Preheat your grill (oven) to a high heat which means the bacon will get really crispy.

Next, using a pair of scissors, make small cuts in the rind side of the bacon. This will ensure that it doesn't "curl up" when under the grill.

Put the bacon under the grill and – turning once – fry until crispy.
Keep an eye on the bacon and remove from oven when crispy.

Set aside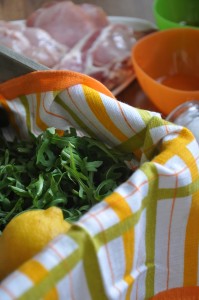 Put the washed leaves and rocket onto salad bowl.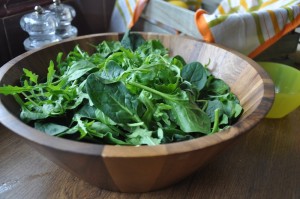 Cut open the avocados by halving them, then cut into half and quarters and peeled.

Thinly slice each avocado and arrange on the mini bowl ( count half an avocado per person).
To make the vinaigrette, put all the ingredients for the dressing into a clean mini bowl, adding the garlic by putting it through a garlic press (if you have one).

Tip: you can use a knife to cut the garlic if you don't have a garlic press.
Shake vigorously until all ingredients are combined.
Now add bacon strips to the salad bowl and fried chicken strips on top.

Top with fresh shavings of parmesan.
Drizzle the dressing on top.
I really hope you will like this salad with chicken, bacon and avocado and this dish will help to enjoy more avocado. Buon appetito.
Ale Simple Recipes