Jam and Chocolate Savoury Croissants Recipe
In this Sunday recipe, I am going to explain how to prepare jam and chocolate savoury croissants at home.
Ingredients for making croissants:
375 gr of rolled puffy pastry (for dessert)

Ice sugar
strawberry jam
Chocolate
1 egg
Preparation
Roll the pastry.

Cover with ice sugar.
Cut the pastry into triangles of 5 cm.
Arrange a spoonful of jam at the center of a triangle.
fold it in such a way as to get the shape of a croissant.
Fill the second triangle with a tbs of chocolate.
Repeat the process until there is no pastry left.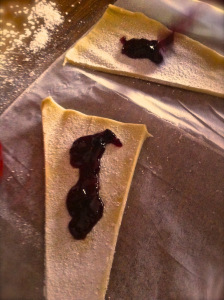 Spread egg yolk on each croissant.
Seal the edges pressing them lightly with your fingers.
Bend the tips slightly forward to give it a shape similar to a croissant.
Arrange the croissants on a baking sheet lined
 Bake the croissants for 15 minutes in a preheated oven at 180 º C.
Cool the cook down
Sprinkle with icing sugar
Serve for breakfast.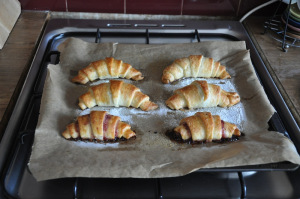 Tip: croissants are ready when they are golden and little brown on the top.
Happy Sunday Breakfast by to Ale Simple Recipes.