Onion and Potato Omelette served with Peas Recipe
How to prepare a potato onion cheese omelette?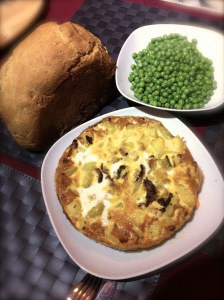 I have many potatoes to use so I decided cook a big omelette for dinner.
As side, I prepared peas which I served with my homemade bread.
This is simple recipe which doesn't require particular skills.
Difficulty: easy 
preparation time: 15 minutes
cooking time: 30 minutes
Ingredients for 2-3 people:
potatoes 4

onions 1+1/2

cheddar cheese 2 slices
parsley
pinch of salt
eggs 4
Preparation:
W

ash and cut 4 medium potatoes into cubes

Cut 1 onion and half lengthways
Add oil to a pan and heat the gas on.
After 2 minutes, add cubes potatoes and chopped onion
Cook until are both tender and golden.
Dry them using the kitchen paper.

Beat 4 eggs and add the mixture of onions and potatoes.

Add salt, parley and cubed cheddar cheese.
Transfer all the mixture to a pan
Cook the omelette

C

over the handle of the pot with foil and put the pan into the oven.In this way, you can cook the top of the omelette in the oven.

Preheat the oven to 200 degree

Cook the top of the omelette.

Serve you omelette with your favourite side dish.
Preparation of the side dish
Boil frozen peas and cook them until tender.

Pour the peas into a pan and season them with salt.

Let them cook for 7 minutes, when the flavors are blended, serve it.
You can also make a sandwich with your omelette.

If you love potatoes this is the recipe you are looking for.
Hope you will like as much I did.
Ale Simple Recipes