Homemade Potato Gnocchi Recipe
Hello, I am happy to share with you one of my favourite Italian main course: Homemade Potato Gnocchi!
In this post, I will explain how to prepare easily homemade potato gnocchi at home. I am out of work today so I decided to repeat one of my recipe. I really like gnocchi even though some people don't. Try them at least once.
Like many Italian dishes, there is considerable variation in recipes and names across different regions. So here I will give you the basic recipe I always use to prepare homemade potato gnocchi.
Gnocchi are eaten as a first course (primi piatti), alternatives to soups (minestre), or pasta. They are generally home-made in Italian households. They may also be bought fresh from specialty stores. In supermarkets, industrially produced packaged gnocchi are widely available refrigerated, dried, or frozen. Common accompaniments of gnocchi include tomato sauces, pesto, and melted butter and sage (sometimes fried butter ) or butter with cheese.
Ingredients (for four people): 
1 kg of yellow potatoes (not the ones that you use for frying)
50 gr butter
300 g flour
2 large eggs
pinch nutmeg
salt to taste
black pepper ( if only it suits you)
Preparation of homemade potato gnocchi:
Peel the potatoes and boil them. Once cooked, scoop out the middles into a ricer or a bowl and mash well.
Note: Never use warm potatoes, mash well until you get a puree. You have to mash quickly the potatoes.
Remove and allow to cool for 1 minutes, then cut in half. Ideally cut the potatoes only when you're ready to rice them – hotter potatoes rice more smoothly and don't produce lumps.
Make a well
Add some freshly grated nutmeg to the well along with a splash of water to bind the mixture.
Season with sea salt (and freshly ground black pepper – if its suits you. I didn't use black pepper. )
 Mix immediately with eggs, flour and salt until it has a firm texture like mine in the photo below.
If the mixture is too wet, add a little more flour, or if it's too dry, add a little more water.
Make a big ball like the one it is on my table not the one I am holding in my hand. Then, take a piece of the mixture and make a small ball like the one I have in my hand.
Divide the dough into pieces and roll each piece into a long sausage, 1.5 cm thick. Not to overwork the dough or it will become tough and you want gnocchi to be like little pillows.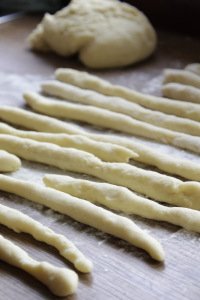 finish to roll all the potato dough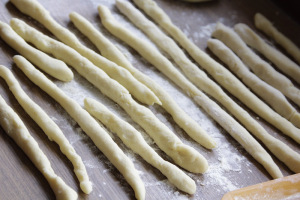 Cut each sausage into 2–3 cm pieces with a blunt table knife (in order to obtain rounded rectangles) and place on a bed of semolina on a tray.
At this point in the flour with a fork passed curl and roll the gnocchi.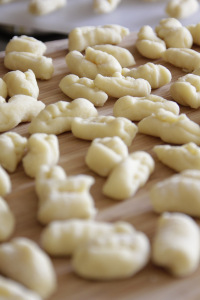 Pop in the fridge for about 30 minutes to set.
Cook the gnocchi in a pan of salted simmering water for about 2–3 minutes, or until they float to the top. Once cooked, use a slotted spoon to lift them out of the pan.
Toss the gnocchi gently in either of the sauces above (tomato sauce or butter and sage). Serve with freshly grated parmesan and small basil leaves sprinkled over the top (only if it suits you).
Notes: burro and salvia sauce as we called it in Italian is easy to prepare . You need to melt the butter with a bit of sage in a pan 1-2 min, then add half potato gnocchi.
Now place both the potato gnocchi in a place : half are with your tomato sauce and half are with butter and sage as you can see in the photo below.
Season with:
Tomato sauce and parmesan cheese or
Tomato sauce and pesto or
Butter and fontina or
Pan-fried pears and gorgonzola
Buon Appetito. I hope you will like my homemade potato gnocchi as much I did today.
Alessandra Simple Recipes