Mussels and Oysters Recipe
How to serve easily at home steamed mussels and oysters.
I really love shellfish, especially mussels because they are really simple to cook, you can find in every shop and do not cost too much. So few weeks ago with the occasion to have some guests for dinner, I decided to serve steamed mussels and oysters.
If you live in Dublin, the best place to buy fresh fish is Howth in the coast of Dublin. On the pier there are several fish markets which sell daily fresh fish at competitive price. Among them, I believe that Dorans is the best in quality and price. After all It was one of the best dinner that I've ever had so far.
Ingredients (for two people): 
Mussels shellfish: two kilos (I consider usually 1 Kilo per person).
Fresh parsley: 2,3 leaves.
One clove of fresh garlic (to be chopped. If you love garlic you can add one more).
Extra virgin olive oil: 3-4 tablespoons. Better if you use a genuine Italian Brand.

These ingredients are for two people, if you are going to cook for more 4 or more people, just multiply the quantities.
Preparation: How to prepare Mussels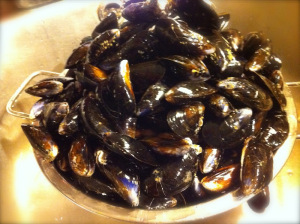 In a big pot, add 3-4 tablespoons of oil and the chopped garlic.

Fry it at low flame for 2-3 mins or before when you see the garlic turns golden colour. 

Add then the mussels, previously cleaned and washed.
Please Note

: During the cleaning process using tap water check the filaments and eventually remove them with a knife or by hands. The best way to clean them is to check one by one.

Once you added the mussels, pour 1/2 glass of wine into the casserole and flavour with a handful of chopped parsley.

Now, mix well with a wooden spoon so the parsley and the garlic will be mixed evenly with the mussels. Cover the pot and let it cook for 20 minutes medium heat.

TIP

: Mussels are cooked when their shells are fully opened. You also recognise this because the will rise their heigh in the pot. Also if they are really fresh their inside must be yellow.
Notes:

do not eat the closed cooked mussels

. If they are fresh,  it should not happen.
How to serve fresh oysters: cleaning and preparing
As starter you can serve oysters

:  

they are always closed.
A chef will use a particular strong knife to open them, but you can use a strong knife you have in your kitchen and that you don't mind it could break or bend a little. So please don't use your cutlery service got as marriage gift.

Clean them well, removing the small sea animals that can be on the outer oyster shell.  

After you opened them, wash it under the tap water, just to be sure they are not dirty.

Place them on a dish or a tray and sprinkle them with a squeeze of lemon and let soak oysters for 15-20 minutes.
one slice lemon per person should be ok
Then serve and enjoy them as my much my friends did.
The best part is also the oyster juice. So after you eat the pulp you can suck the juice left into the shell.
Buon appetito. I hope you will enjoy mussels and oysters as much we did.
Alessandra Simple Recipes