Homemade orange cake recipe
How to prepare easily an orange cake.  In this recipes, I'll give you the ingredients both in grams and cups to help you to try this recipes whenever you are. If you have measuring spoons, you can use them. In this recipe, I used the extra virgin olive oil. If you don't like its taste you can use seed oil.
Ingredients: 
flour 1 cup and 1/2  = 160 gr.

extra virgin olive oil 1/2 cup = 100 ml

sugar 3/4 cup = 120 gr.

1 orange = orange juice +  finely orange zest

baking powder  1 and 1/2 teaspoons

3 eggs
Difficulty: easy recipe
Preparation: 45 minutes
Preparation of the orange cake:
Preheat the oven to 180 degrees. Butter and flour a small mod (maximum 22 cm); the cake is small.

Combine eggs with sugar and beat thoroughly for 10 minutes.
Add orange zest , its juice and extra virgin oil olive and beat for 3 mins.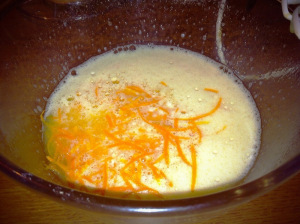 Now add flour and and baking powder and mix well all the ingredients.
Pour mixture into a greased 22 cm ring tin.

Bake in centre of 180 degree oven for 30-40 mins.

When the orange cake is bakes, let the cake cool don

Notes:do the toothpick test to see if the cake is cooked.

When the cake is cold, add some icing sugar on the top.
Enjoy this orange cake as much I did.
Alessandra Simple Recipes