Homemade Coconut Biscuits (Cookies) Recipe
Cookies or biscuits are not just for children. Try serving these sophisticated coconut biscuits with hot chocolate or tea in the afternoon or after dinner with a glass of sweet wine for example : L'Orcio.
L'Orcio is my favourite one. It is sweet wine flavored with wine and cherries. I discovered one thanks to my dad 3 years ago. It is produced near by Ancona, which is the capital of my region, Marche.
Today, I will explain how to prepare coconut biscuits at home for you children or yourself.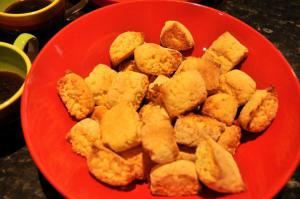 Cooking

: 15 mins

Preparation: 30 mins
Per serving

: 175 Kcal
Ingredients:
215 gr plain flour

7 tablespoons butter, softened and cut into pieces

1 cup desiccated coconut

5 tablespoons caster sugar

1 egg

1 egg yolk

1 tablespoon granulated sugar
For the baking sheets: 
1 tablespoon butter

1 tablespoon flour
Preparation of coconut biscuits:
Sift the flour into a bowl and make a well in the centre.

Put the butter, desiccated coconut, superfine sugar, whole egg and yolk into the well.

Knead the ingredients with your fingertips until well mixed.

Shape into a ball and wrap in cling film. Then

refrigerate

in the least cold part of the refrigerator for at least

2 hours.

Place the cookies dough on a work surface and shape it into cylinders about 10 centimetres long and 2.5 centimetres in diametres.

Wrap each cylinder with cling-film and refrigerate for at least 3 hours. 

Remove from the refrigerator and discard the cling-film.

Roll each cylinders in the granulated sugar several times; slice into 1- centimetre thick circles.

Grease and flour 2 baking sheets. Place the rounds on it, well spaced apart, and bake in a preheated oven, 180 degree Celsius, for 15 minutes.
The amazing state and the sophistication of these coconut biscuits make them suitable for a after dinner with a glass of sweet wine or tea break too.
Hope you will enjoy them as much I did.
Alessandra Simple Recipes