Mini Custard and Raspberries Tarts Recipe
How to prepare raspberries tarts, which are perfect for any occasions that are on the way.
Today I decided to use the custard left from the preparation of another tart. In this post, I am baking mini raspberries tarts. I defrosted my homemade shortcrust  which I prepared during Xmas time.
Mini raspberries tarts tarts are perfect as dessert or as afternoon breaks because they are small cakes.  You can serve these tarts with your favourite drink: mocha, hot chocolate, caramel macchiato or latte or you can eat simply like they are.
They are easy to make and not too demanding. This is the perfect dessert for singles or who doesn't want a big dessert.
Ingredients for raspberries tarts: 
Preparation of raspberries tarts:
Roll out the dough until you get a thin layer.
Pierce with a fork the dough
Cut the pastry, using the mini baking tart, draw two circles a little bit more larger than the mini baking pan.
Preheat the oven to 180 degrees
Bake them in the oven for 15-20 mins.
Let cool down at least 30 minutes.
Cover with custard
Tip: you can find in my previous post, how to make custard.
Add on the top the raspberries and storage them in the fridge for 2 hours.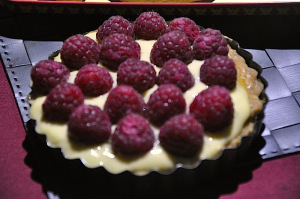 Happy dessert by Ale Simple Recipes