Bolognese sauce (Ragu alla Bolognese) Recipe
How to prepare ragu known as bolognese sauce easily at home.
Bolognese sauce is a meat-based sauce for pasta originating from Bologna, Italy. It is customarily used to dress tagliatelle and may also be used to prepare "lasagne alla bolognese". In Bologna, ragù alla bolognese is known simply as ragù. Outside Italy, Bolognese sauce often refers to a tomato sauce with meat (beef or pork) added, and typically bears little resemblance to ragù alla bolognese.
Ingredients for 8 people 
olive oil

1 large onions-fined chopped

4 carrots-fined chopped
3 stalks of celery- fined chopped
800 g minced meat
600 g peeled tomatoes
1 glass of red wine
dried mushroom
1 bay leaf
marjoram
sea salt
Preparation of ragu
In a medium size pot, heat olive oil over medium heat until begins to froth.

Add onion, celery, carrot.
Cook until onions are translucent (about 8 to 10 minutes) as showed on the photo above.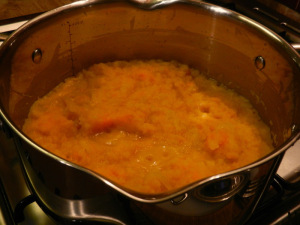 Add minced meat and cook it until meat loses red, raw color.
Raise heat and add wine and cook sauce until wine is mostly evaporated.
Add dried mushroom and its filtred liquid;  cook sauce until liquid is mostly evaporated.
Turn heat down to simmer and add marjoram, salt
Let cook for approximately 20 minutes.
Add crushed tomatoes and bring heat to a boil.
Once the mixture comes to a boil, return to simmer.
Let sauce simmer (very slowly) partially covered for about 2 hours (the longer the better), stirring occasionally to prevent sticking.

The first photo shows how you ragu` will look like when it is ready.  You can see the liquid has be slowly adsorbed.

Use the sauce as dressing for your pasta. I decided to serve my bolognese sauce with fresh tagliatelle, see the photo below for more details.

Notes: The remaining sauce can be frozen for future usage. In this way, you have it ready for the next time.

Once it is cooked the bolognese Sauce, let it to cool down before cooking the fresh tagliatelle. Cooking time for fresh tagliatelle is 3-5 mins.

Take another pan and add some bolognese sauce.

Heat it for 5 mins and add the tagliatelle, let them to absorb the sauce.

After 5 minuted add some parmesan. Serve it.
Its taste will draw you and I am sure you will like it as much I did.
Buon Appetito by Alessandra Simple Recipes.