White Fish with Lemon Cream
In this post I am going to teach you how to prepare white fish with lemon cream. This recipe is very healthy and it can become an important part of your diet.
Although in my images may seem difficult, I will ensure you it takes at worst 30 minutes because you will use fresh ingredients from scratch. Once you are familiar with the preparation it can take just 15 minutes in total.
These days make me realise that fish is generally grilled or fried but, there are other amazing way to serve it like this one.
Furthermore, the result is amazing thanks to a secret ingredient: Champagne or white wine. Although the fish's quality is more important than the sauce. It is matter to me that the freshness and delicate taste of the fish is preserved as much as possible. So, I usually buy it on the same day I decide to cook it for lunch or dinner.
Ingredients for White fish with lemon cream
100 grams spaghetti/linguine or tagliatelle

300 grams white fish (Haddock or similar)

2 tablespoon rapeseed oil

1 onion, diced

1 clove garlic, crushed

100 grams chopped cherries or heritage tomatoes

1 tablespoon lemon zest, grated from the skin of a lemon

2 tablespoon cooking cream

100 ml fish stock

1 tablespoon fresh basil chopped / 1 teaspoon of dried basil

1 tablespoon fresh parsley chopped / 1 teaspoon of dried parsley

2 tablespoon lemon juice

white wine/champagne to taste
Preparation
First of all, in a pot of boiling water place the linguine and simmer for 8-10 minutes until cooked ;
Cut the white fish into small pieces;
Cut the white fish in regular pieces
While you are cooking the linguine, eat the oil over medium to high heat using a frying pan for 1 minutes ;
Now add the onion, crushed garlic, the red pepper and the

chopped cherries or heritage tomatoes

. Cook these ingredients for 3-4 minutes;

Then add the white fish and lemon zest;

After 1-2 minutes, add white wine and let the wine blend with other ingredients;

Wait few more minutes. Then add the single cream plus the fish stock and stir until the sauce is smooth;
Finally add the basil, parsley and lemon juice. Cook for 2 – 3 minutes until the fish is lightly cooked.
Before serving, add the cooked linguine to the white fillet and lemon cream sauce. Alternatively, you can use spaghetti or tagliatelle.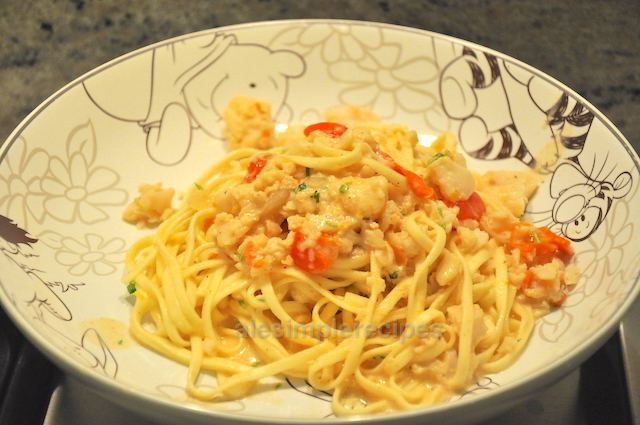 Tip: You can add champagne or white wine to this dish. The taste is amazing thanks to the lemon who make the flavours blend beautiful together.
Oh, and one more thing: let me know what do you think!