Traditional Italian Basil Pesto Sauce Recipe
This is my Traditional Italian Basil Pesto Sauce Recipe, gotten from my mother in Italy where it is called there "Pesto alla Genovese". If you have never tried this kind of sauce or even better you tasted this sauce from a ready made sauce jar, I advise you to try this and compare: you will be amazed to discover how it is so fresh and taste different from the packaged one.
Please Note that Pesto is always made to taste, based on the ingredients at hand. So after you made this sauce, you can adjust the ingredients to your taste the next time you are going to prepare it.
To make the traditional Genovese Pesto sauce, you need to use both Parmesan cheese, and Pecorino Romano Cheese, which has a stronger flavor. Also you need to use Pine nuts but if you don't mind to be traditional and try something different, you can easily substitute them with walnuts. For an alternative recipe sauce you can have look at my lighter pesto.
The name of this sauce, Pesto alla Genovese, comes from its city, Genoa (or in Italian Genova), located in the Liguria region of northern Italy. Traditionally consists of crushed garlic, basil, and European pine nuts blended with olive oil, Parmesan cheese. A Genovese is also somebody who comes from the city of Genoa, like a Dubliner from Dublin.
Ingredients for my Italian Basil Pesto, ideally for 4 people:
30 g basil leaves
1/2 glass of oil olive
30 g or 6 tablespoons of Parmesan cheese
5 g or 2 tablespoons Pecorino cheese
2 garlic cloves (small size or 1 big size)
2 teaspoons of pine nuts
Salt , 1/2 teaspoon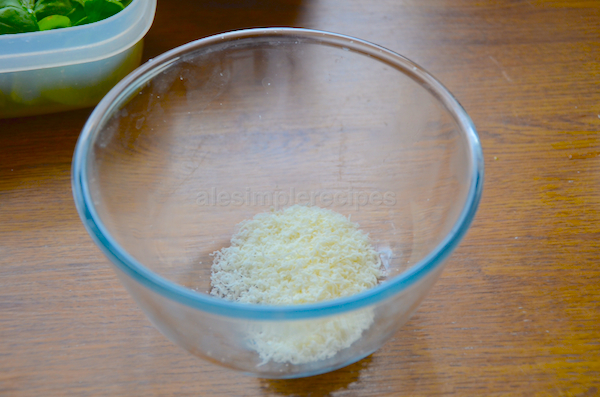 Preparation of Italian Basil Pesto Sauce (Pesto alla Genovese)
Tip: you can use the pesto maker or food processor. I'll show you both methods so you can decide which you like the most. The food processor it is more simple and quicker 😉
Combine the basil in with the pine nuts, pulse a few times in a food processor or pesto maker. (If you are using walnuts instead of pine nuts and they are not already chopped, pulse them a few times first, before adding the basil.)
Add the garlic chopped and cheese and pulse a few times more.
Slowly add the olive oil in a constant stream while the food processor is on.process until smooth, then season.
Add a pinch of salt.
Stop to scrape down the sides of the food processor with a rubber spatula.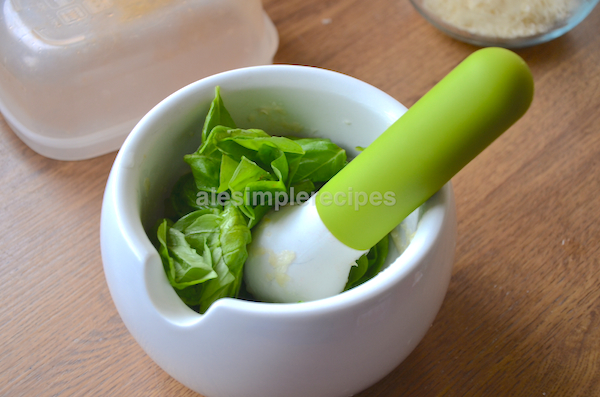 You can use this sauce with Spaghetti or Italian Penne and I will ensure you, its taste is fantastic!