Gorgonzola Cheese, Pears, Walnuts Linguine Pasta Recipe
How to prepare linguine with pears, nuts and gorgonzola cheese. I tested how good is the pear with the gorgonzola cheese and here it the recipe of the day. I wanted to give an Italian twist using gorgonzola or similar. If you prefer a very strong cheese, I recommend: Roquefort. Enjoy it, I have thoroughly enjoyed it!
Other cheeses: you can use stilton too. If it is too strong for your taste, try using a milder blue cheese such as dolcelatte, or swap half the stilton in the recipe for some creamy, mild mascarpone.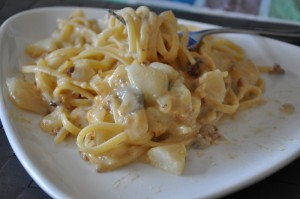 Ingredients for 2:
180 g linguine;

150 g of pears

1 dl fresh cream;

50 grams of g

orgonzola cheese

4 roasted nuts;

1 knob of butter;

salt and pepper
Preparation
In a saucepan, melt the butter and chopped pears until golden.
Add walnuts previously toasted.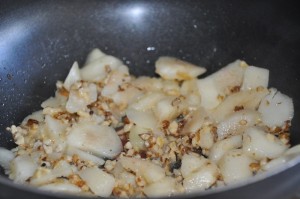 Add the crumbled Gorgonzola cheese and cream 
Let the flavors blend
Season with salt and pepper
Remove the pan from the heat.

Dip the linguine in boiling water and salt and let boil. Drain the linguine al dente and reserve some cooking water.

Stir in the linguine in pan with the sauce along with a little of the cooking water.
 Then sprinkle with the toasted walnuts to serve.
The linguine with pears, walnuts and gorgonzola are served!  I hope you will like this pasta dish as much I did.
Alessandra Simple Recipes