How to make tagliatelle pasta
Home made Pasta is never out of fashion because it is simple to make in your own kitchen. All you need it is just patience, be well organised and follow few golden rules I am going to explain in this post
What tools you need to make tagliatelle pasta
1. hand-cranked pasta roller
2. Guitar pasta cutter
3. Wooden worktop
4. Rolling pin
Ingredients you need for tagliatelle pasta (4 people):
How to prepare tagliatelle pasta:
Place the flour into a large bowl or directly on the workshop and make a mound.
Create a well in center.
Add 3 eggs
Using a fork, incorporate eggs and liquid in a circular motion, pulling in small amounts of flour until dough becomes stiff.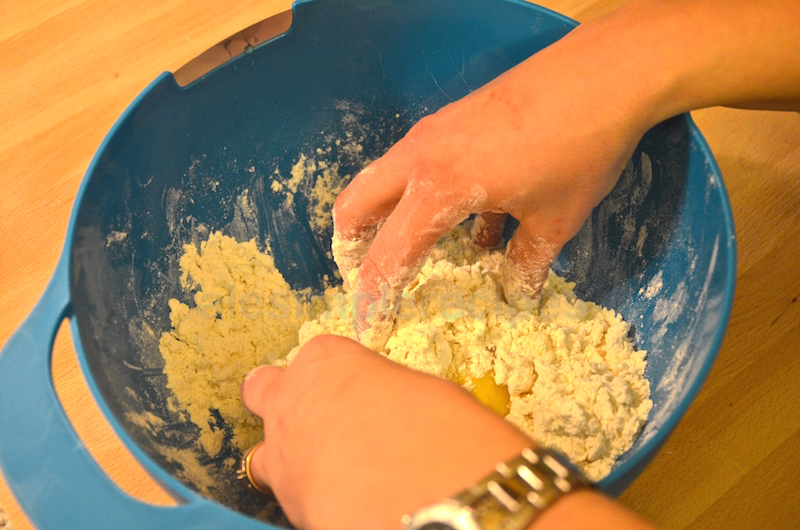 Knead dough, adding a little flour as necessary, to prevent sticking, until it's smooth and elastic, about 10 minutes.
Cut dough into quarters.
Make small sausages with each quarter of dough.
Flatten 1 sausage into a rectangle with the rolling pin.
Fold each flat dough on both sides, creating another rectangle.
Place each flat dough through roller set at widest Thickness. Do this twice using same size. Decrease thick setting by 2 units (ex. from 6 to 4) and roll pasta through again; repeat this process and decrease thickness until you've reached the second-to-last setting, creating a 1,5 cm thick sheet.
TIP: When the dough has taken a regular shape, pass it through the rollers only one with the regulators set on number 2, then once again on number 3 continuing until you obtain the desired thickness (min. thickness at no. 9 approx 0.2 mm)
Cutting the dough sheet into Tagliatelle (I use the Guitar tool also called Chitarra)
Sprinkle sheet with flour on the wooden worktop.
Transfer it to guitar pasta cutter.
Using a rolling pin, push gently along with the dough to allow the plastic strings to make the first incision on the sheet. Do this twice.
Once the sheet if firm you can push harder to cut it. You will see that the tagliatelle drops down the wooden tray.
Repeat these steps to use all the dough you have left.
Place the tagliatelle on a tray, ensuring they not stick together. To do this, sprinkle a little bit of flour with your hand again.
TIP: you can keep the rest of pasta in the fridge for few days using only the quantity that suits you.
How to cook Tagliatelle: some tips
Cook the pasta in boiling salted water. The time will depend on the the thickness of tagliatelle pasta but usually 2,3 minutes at max because is fresh pasta.
Taste it and dry with a colander when it is al dente.
Now you can add your sauce like pumarola tomato sauce or Bolognese sauce.
Enjoy your home made tagliatelle!