How to make Lasagne? Try this simple recipe
I want to share with you a classic recipe called Lasagne. I made it easy for you to prepare, so you can easily prepare at home, just following my instructions. The image below is the real result, the lasagne I made myself. Isn't delicious?
A little history about lasagne
Lasagne originated in Italy, traditionally associated to the city of Bologna in the Region of Emilia-Romagna, where the first modern recipe was created and published and became a traditional dish. Traditional Lasagne is made by interleaving layers of pasta with layers of sauce, made with ragù, bechamel sauce, and Parmigiano-Reggiano cheese.
In other regions, especially outside of Italy it is common to find Lasagne made with ricotta or mozzarella cheese, tomato sauce, various meats (e.g., ground beef, pork or chicken), miscellaneous vegetables (e.g., spinach, zucchini, mushrooms) and typically flavored with wine, garlic, onion, and oregano. In all cases the lasagne are oven-baked.
Here the instructions on how to make Lasagne
First of all, you need to prepare the Ragu sauce. For the recipe you can check my previous post Ragu Recipe: How to prepare an authentic Beef Ragu Sauce.
Once you finish to prepare the ragu sauce, you will start preparing the bechamel sauce. I highly recommend you to make your own one from scratch. It is simple and it is worth for its taste. Believe me, to make it by scratch is not difficult, you just need to follow my instructions. For its recipe, you can have a look at my post called How to make bechamel sauce from scratch.
Once you made Ragu and bechamel you are already at a good point. The rest is very simple. The Lasagne is the combination of sheets of flat pasta, the ragu and bechamel sauce, all together placed in a baking tin. In this recipe I don't make the sheets of pasta because I don't want for you to make it more difficult but also you need to have a pasta maker where it is not cheap and probably you won't use so often.
Ingredients
Ragu sauce you prepared before;
Sheets lasagne pasta, you can buy in any Supermarket in Ireland (Lidl and Aldi too).
Bechamel sauce you prepared before;
Parmesan cheese to add extra tasting texture. You can use Parmigiano Reggiano or Grana Padano.

Please do not use cheddar or other kind of cheese.
Preparation. Please do not panic, it is really simple.
Nowadays, it's common to find in supermarkets lasagne sheets which can directly baked. This means you don't need to boil them into a hot water before putting into the oven.
TIP1: check the box of lasagne sheets. It is always displayed
Heat oven to 180 Celsius (fan oven) or 160 Celsius for gas oven.
To assemble Lasagne, lightly oil an ovenproof serving dish (30 x 20cm).
Spoon over it a third of the ragu sauce like in the following image. This will keep the bottom layer of the Lasagne with the right amount of humidity so it won't burn nor become dry.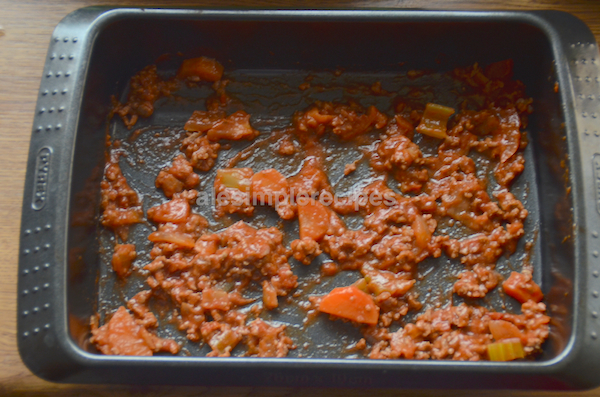 Then cover with lasagne sheets to build the first layer.
Once you finish with the 1 layer of pasta sheet, you have to start again with spreading the ragu sauce, but this time, after you finish spreading it, you have to add on top the bechamel sauce.
Arriving to this point, you have done the following layers starting from the bottom of the tray and going up: 1 ragu, 1 pasta sheet, 1 ragu, 1 bechamel. Now Repeat the process, adding a layer of pasta and start again with ragu and bechamel until you have 3 layers of pasta.
Once you finish building with 3 layers of pasta sheet, the last one it is slightly different. You still add ragu sauce and bechamel but then you sprinkle with Parmesan cheese (Parmigiano Reggiano or Grana Padano) like in the following images.
Bake for 45 mins until the top is bubbling and lightly browned. Do not over cook otherwise it will get dry and burn the sauce.
The following image is the result of my Lasagne, served on the dish. What do you think? Please let me know in the comments below.
If you like this recipes and want to know more about me and my recipes, you can follow me on Facebook Page.