History of Easter, Traditions and Recipes
When Easter comes, I always think about my grandmother and my family Easter celebrations in South Italy, Naples, where she lived and where my mum comes from. My heart remembers beautiful memories.
This year, I decided to do something different. I followed different traditions: two weeks ago, I decorated bushes with Easter eggs which is known as the Ostereierbaum, or Easter egg tree in Germany.
For Good Friday, I bought some cross burns which my husband and I ate for breakfast. They already gone before I could take some photos. Today, I'm celebrating Easter with the classic Italian Easter Dove and some dark Easter Chocolate eggs.
Then I decided to share my happiness by sparkling Curiosity with this little search. I also hope that you find it interesting as I do.
Easter also called Resurrection Sunday, is a festival and holiday celebrating the resurrection of Jesus Christ from the dead, described in the New Testament as having occurred three days after his crucifixion by Romans at Calvary. It is the culmination of the Passion of Christ, preceded by Lent, a forty-day period of fasting, prayer, and penance.
The last week of Lent is called Holy Week, and it contains the days of the Easter Triduum, including Maundy Thursday (also known as Holy Thursday), commemorating the Last Supper and its preceding foot washing, as well as Good Friday, commemorating the crucifixion and death of Jesus. Easter is followed by a fifty-day period called Eastertide, or the Easter Season, ending with Pentecost Sunday.
Easter is a moveable feast, meaning it is not fixed in relation to the civil calendar. The First Council of Nicaea established the date of Easter as the first Sunday after the full moon (the Paschal Full Moon) following the March equinox. Ecclesiastically, the equinox is reckoned to be on 21 March (although the astronomical equinox occurs on 20 March in most years), and the "Full Moon" is not necessarily on the astronomically correct date. The date of Easter therefore varies from 22 March to 25 April inclusive. Eastern Christianity bases its calculations on the Julian calendar, whose 21 March corresponds, during the 21st century, to 3 April in the Gregorian calendar, and in which therefore the celebration of Easter varies between 4 April and 8 May.
So now we know why its date changes every year, which it is very fascinating, isn't it?
Easter is linked to the Jewish Passover by much of its symbolism, as well as by its position in the calendar. In many languages, the words for "Easter" and "Passover" are identical or very similar.
Easter customs vary across the Christian world, and include sunrise services, exclaiming the Paschal greeting, clipping the church and decorating Easter eggs, a symbol of the empty tomb.
Additional customs that have become associated with Easter and are observed by both Christians and some non-Christians include egg hunting, the Easter Bunny, and Easter parades.
There are also various traditional Easter foods that vary regionally. In fact, the preparation of these foods is among the Easter customs practiced. Preparing, coloring, and decorating Easter eggs in one popular tradition.
In Neapolitan cuisine, the main Easter dishes are the casatiello or tortano, a salty pie made with bread dough stuffed with various types of salami and cheese, also used the day after Easter for outdoor lunches. In Marche, instead, this typical salty pie is called Crescia. Typical of Easter lunches and dinners is the fellata, a banquet of salami and capocollo and salty ricotta. Typical dishes are also lamb or goat baked with potatoes and peas. Easter cake is the pastiera.
Typical of Easter is the Italian Easter cake, which now days you can easily find in any Italian supermarket or shops in Italy. It is cheaper to buy the Easter Dove than baking it. You can buy it in Italy where is cheaper than buying it abroad. In fact, I bought mines in Italy this year.
Colomba pasquale or colomba di Pasqua ("Easter Dove" in English) is an Italian traditional Easter cake, the counterpart of the two well-known Italian Christmas desserts, panettone and pandoro.
The dough for the colomba is made in a similar manner to panettone, with flour, eggs, sugar, natural yeast and butter; unlike panettone, it usually contains candied peel and no raisins. The dough is then fashioned into a dove shape (colomba in Italian) and finally is topped with pearl sugar and almonds before being baked. Some manufacturers produce other versions including a popular bread topped with chocolate.
The colomba was commercialised by the Milanese baker and businessman Angelo Motta as an Easter version of the Christmas speciality panettone that Motta foods were producing.
In Ireland, where I live, Easter is celebrated eating hot cross buns. A cross bun is a spiced sweet bun made with currants or raisins and marked with a cross on the top, traditionally eaten on Good Friday in the UK, Ireland, Australia, New Zealand, the Caribbean, South Africa, and Canada, but now available all year round.
My favourite one is the chocolate version of the bun has become popular in Ireland too. Do you know how many tastes are there? I saw the major supermarkets produce variations on the traditional recipe such as toffee, orange and cranberry, and apple and cinnamon. It is worth to try them too, what do you think?
What's about the Easter eggs? Easter eggs are a popular cultural symbol of Easter, I couldn't forget to mention them too.
This is what I found out about the Easter eggs:
The Easter egg tradition may also have merged into the celebration of the end of the privations of Lent in the West. Historically, it was traditional to use up all of the household's eggs before Lent began. Eggs were originally forbidden during Lent as well as on other traditional fast days in Western Christianity (this tradition still continues among the Eastern Christian Churches). Likewise, in Eastern Christianity, meat, eggs and dairy are all prohibited during the Lenten fast.
This established the tradition of Pancake Day being celebrated on Shrove Tuesday. This day, the Tuesday before Ash Wednesday when Lent begins, is also known as Mardi Gras, a French phrase which translates as "Fat Tuesday" to mark the last consumption of eggs and dairy before Lent begins.
In the Orthodox Church, Great Lent begins on Clean Monday, rather than Wednesday, so the household's dairy products would be used up in the preceding week, called Cheesefare Week.
During Lent, since chickens would not stop producing eggs during this time, a larger than usual store might be available at the end of the fast if the eggs had not been allowed to hatch. The surplus, if any, had to be eaten quickly to prevent spoiling. Then, with the coming of Easter, the eating of eggs resumes.
One would have been forced to hard boil the eggs that the chickens produced so as not to waste food, and for this reason the Spanish dish hornazo (traditionally eaten on and around Easter) contains hard-boiled eggs as a primary ingredient. In Hungary, eggs are used sliced in potato casseroles around the Easter period.
What it is amazing is that Easter is well celebrated differently in many other countries. In fact, in some countries like Sweden, Norway and Germany eggs are used as a table decoration hanging on a tree-branch.
Easter eggs are traditionally dyed red to make red Easter eggs, to symbolise the blood of Christ.
Easter eggs from the Czech Republic Easter eggs decorated with straw. In some countries like Sweden, Norway and Germany eggs are used as a table decoration hanging on a tree-branch.
In Germany, in fact, eggs decorate trees and bushes as Easter egg trees and in several areas public wells as Osterbrunnen. In Italy we don't have this usage which fascinated me so much when I visit my friend in Munich 2 years ago. I liked their way to celebrate this festivity so I decorated my house this 2014 following this wonderful custom.
My friend was also telling me the story of egg hunt, which is so captivating that I had to share this habit with you.
An egg hunt is a game during which decorated eggs, real hard-boiled ones or artificial ones filled with, or made of chocolate candies, of various sizes, are hidden for children to find, both indoors and outdoors. When the hunt is over, prizes may be given for the largest number of eggs collected, or for the largest or the smallest egg. Real eggs may further be used in egg tapping contests.
In the North of England at Eastertime, a traditional game is played where hard boiled pace eggs are distributed and each player hits the other player's egg with their own. This is known as "egg tapping", "egg dumping" or "egg jarping". The winner is the holder of the last intact egg. The losers get to eat their eggs. The annual egg jarping world championship is held every year over Easter in Peterlee Cricket Club. It is also practised in Bulgaria, Hungary, Croatia, Latvia, Lithuania, Lebanon, Macedonia, Romania, Serbia, Ukraine, and other countries. In parts of Austria, Bavaria and German-speaking Switzerland it is called Ostereiertitschen or Eierpecken. In parts of Europe it is also called epper, presumably from the German name Opfer, meaning "offering" and in Greece it is known as tsougrisma. In South Louisiana this practice is called Pocking Eggs and is slightly different. The Louisiana Creoles hold that the winner eats the eggs of the losers in each round.
The central European Slavic nations (Czechs and Slovaks etc.) have a tradition of gathering eggs by gaining them from the females in return of whipping them with a pony-tail shaped whip made out of fresh willow branches and splashing them with water, by the Ruthenians called polivanja, which is supposed to give them health and beauty.
Egg rolling is also a traditional Easter egg game played with eggs at Easter. In the United Kingdom, Germany, and other countries children traditionally rolled eggs down hillsides at Easter. This tradition was taken to the New World by European settlers, and continues to this day each Easter on the White House lawn. Different nations have different versions of the game.
Egg dance is a traditional Easter game in which eggs are laid on the ground or floor and the goal is to dance among them without damaging any eggs which originated in Germany. In the UK the dance is called the hop-egg.
The Pace Egg plays are traditional village plays, with a rebirth theme. The drama takes the form of a combat between the hero and villain, in which the hero is killed and brought to life, The plays take place in England during Easter.
In some Mediterranean countries, especially in Lebanon, chicken eggs are boiled and decorated by dye and/or painting and used as decoration around the house. Then, on Easter Day, young kids would duel with them saying 'Christ is resurrected, Indeed He is', breaking and eating them. This also happens in Bulgaria, Greece and Cyprus (where the eggs are painted red). In Easter Sunday friends and family hit each other's egg with their own. The one whose egg does not break is believed to be in for good luck in the future.
Do you know how other countries around the World celebrate Easter? I didn't know the answer. I was attracted to discover more about it and here my findings:
In countries where Christianity is a state religion, or where the country has large Christian population, Easter is often a public holiday. As Easter is always a Sunday, many countries in the world also have Easter Monday as a public holiday. Some retail stores, shopping malls, and restaurants are closed on Easter Sunday. Good Friday, which occurs two days before Easter Sunday, is also a public holiday in many countries, as well as in 12 U.S. states. Even in states where Good Friday is not a holiday, many financial institutions, stock markets, and public schools are closed. Few banks that are normally open on regular Sundays are closed on Easter.
In the Nordic countries Good Friday, Easter Sunday and Easter Monday are public holidays, and Good Friday and Easter Monday are bank holidays. It is a holiday for most workers except some shopping malls which keep open for a half-day. Many businesses give their employees almost a week off, called Easter break.
In the Netherlands both Easter Sunday and Easter Monday are national holidays. Like first and second Christmas Day, they are both considered Sundays, which results in a first and a second Easter Sunday, after which the week continues to a Tuesday. Even though Good Friday is an official national holiday, it is not a mandatory day off for commercial companies.
In Commonwealth nations Easter Day is rarely a public holiday, as is the case for celebrations which fall on a Sunday. In the United Kingdom both Good Friday and Easter Monday are bank holidays. However, in Canada Easter Sunday is a public holiday, along with Easter Monday. In the Canadian province of Quebec, either Good Friday or Easter Monday are statutory holidays (although most companies give both). In some countries Good Friday is a public holiday as well.
In the United States, instead, because Easter falls on a Sunday, which is already a non-working day for federal and state employees, it has not been designated as a federal or state holiday. Easter parades are held in many American cities, involving festive strolling processions, with the New York City parade being the best known.
Wishing you all a very happy Easter.
I'm taking a little break from baking and will be back soon with some new recipes.
In the meantime, why not stay in touch via Twitter and Facebook.
PS: If you'd like to see some stills, scroll down.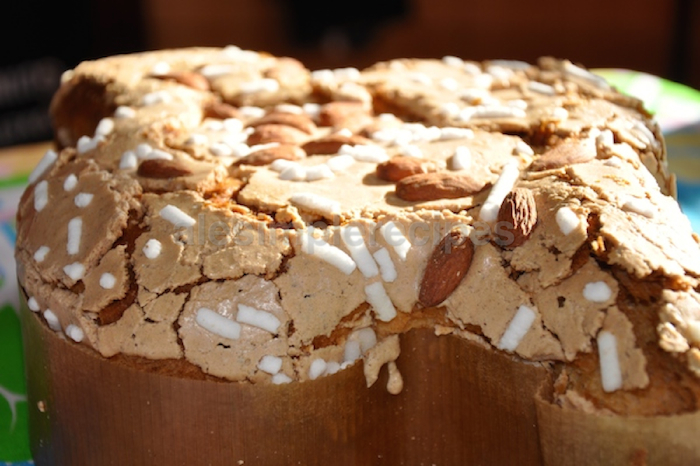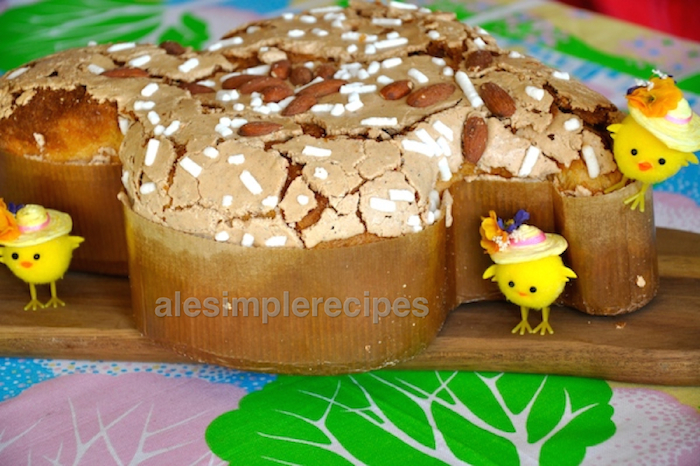 Alessandra by Ale simple recipes