Chocolate and Pear Cake (Torta cioccolato e pere)
There is always an occasion to celebrate with a cake: a birthday or a party in your friend' s house. So why do not to bake something new and original too? I thought to show you how to bake a Chocolate and Pear cake.
If you haven't thought about it, why don't let your kids help you baking this cake? Children love to be involved in food preparation, especially when it is an important event for them like a Birthday.
I'm also sure that every mother checks what kind of food is better for their children. This attention to an healthy food balance style becomes very important especially when you are dealing with sweet or sugary food. Some ready made cakes contains too much sugar or some ingredients who are not the same as the one you would use to bake a cake yourself. In the image below, what I am using are fresh pears that I cut in little squares.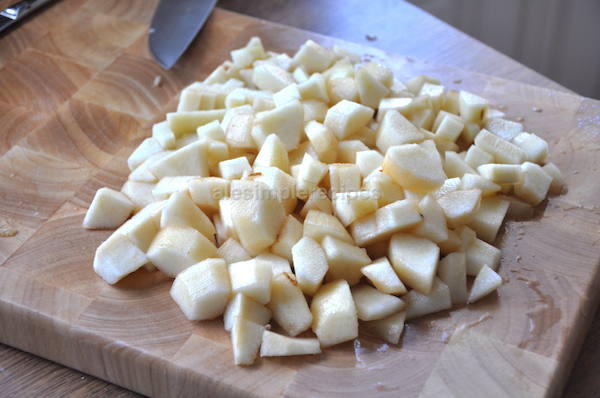 Ingredients to make a chocolate and pear cake for 6 people
200 g of dark chocolate.
170 g of butter
200 g of sugar
4 eggs
100 g of granted nuts
1 packet of baking powder (16 gr)
700 g of pears, very ripe pears, peeled, halved and cored
Icing sugar, for top decoration.
How to make this chocolate and pear cake:
Grease your tin mould so you can pour the mixture into it and bake in preheated oven at 180 ° C for about 40 minutes. In the first picture I used a rose shape mould, but if you have a mold with different shape it is the same. What is important here is to prepare the mix.
Break the chocolate into pieces;
Melt all the chocolate and 100 g of butter in a Pyrex bowl. To do that, you have to take a sauce pan, fill it half with water (that is going to be boiled by your hob), take the bowl and put on top of it. While the hot water into the pan is boiling, the hot vapor will start heating the bowl, melting slowly the chocolate. This technique is called Bain Marie (You can read more such as the story about this name on Wikipedia). Do not cover totally the top of the sauce pan with the bowl but leave it a small space to the vapour to exit.
Whisk the egg yolks with 50 g of sugar and the butter left (70g) in a large bowl until pale and thick.
Pour the chocolate melted bowl into the previous mixture and add the hazelnuts.
Add the sifted flour and baking powder.
In a separate bowl,

with a clean whisk

, beat the whites until they reach a soft peak (try not to whisk them too stiffly or you'll have trouble folding them in) with the sugar left (150 grams).
Stir a spoonful of the whites into the chocolate mix, then carefully fold in the rest of them in 2 additions.
Spoon into the tin mould. Level, then arrange the pears over the mixture, cut-side down or in cubes as I did .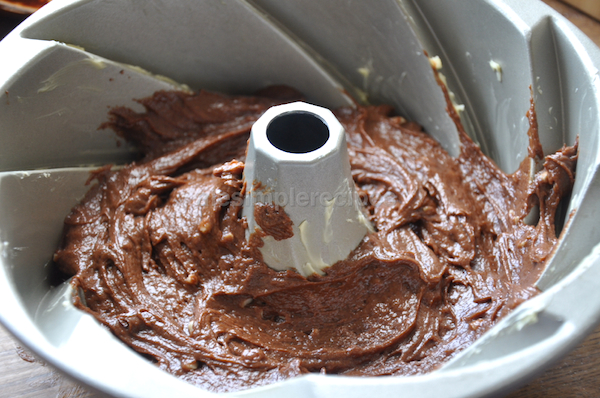 Bake for 40 mins until the pears are soft and the cake is cooked all the way through.
Leave to cool in the tin slightly before releasing it, then place on a rack to cool completely.
Decorate with sugar flowers, butterflies and animals as I did. You child will love it. If you bake for adults, you can Dust with icing sugar and serve with crème fraîche, before serving it.
Remember to let me know your experience leaving a comment here or sharing a photo of your cake on my facebook page.