Black and White Bow Ties Pasta with Sage herbs
This recipe will explain you how to cook Zebra Bow Ties (Farfalle) Pasta in a sage herbs dressing. Just follow my instructions
I like to serve pasta with a light dressing, to appreciate its flavour and texture. This is my favourite way to enjoy it: simple and with great results. Today I will teach you how to prepare this farfalle pasta with sage herbs dressing.
On my last visit to Avoca food store in Dublin I bought this fabulous pack of pasta, the same as in the image above. At the first sight it looks like peculiar as in the old traditional Italian food culture we don't eat coloured pasta, but just the regular one. Although this may be true, there are two exceptions: the squid black coloured pasta or the spinach green pasta.
In reality these Black and White Zebra Bow ties pasta are uniquely attractive, but anyway I made a research, which I would like to share with you.
The black colour is natural squid ink that is added in a special process to traditional bow tie shaped pastas. This is a feature that is not simple to perform, and still have the pasta hold its shape and not come undone while cooking. Cooking time is on average 5-7 minutes according to taste.
Ingredient for Black and White Zebra Bow ties with sage for 4 people:
Fresh sage: 20 leaves (approx. from 20 to 25);
Parmesan cheese: 25 grams;
Pasta: 250 grams;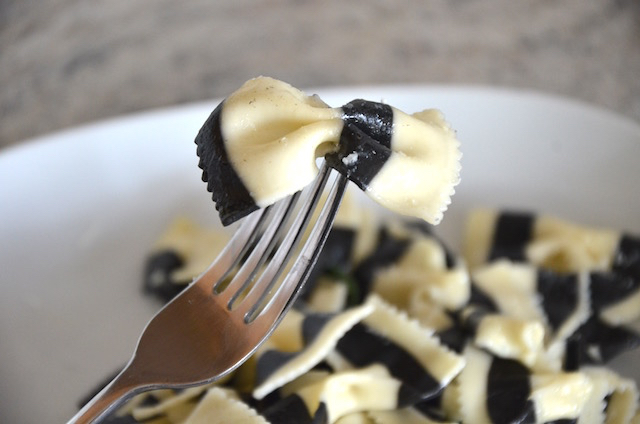 Cooking Instructions for Pasta (time 15 minutes)
First of all, fill a large saucepan with water (1 litre to 100 g of pasta).
Secondly, bring to boil and add the salt (gross) about 1 teaspoon;
Then add the pasta;
Cook the pasta for 5-7 minutes ;
Finally, drain it well.
Cooking Instructions for Sage herbs dressing (time 10 minutes)
After you completely washed and drained the sage, take a medium/large fry pan and place on the hob;
Then, add 20 grams of butter (I used the creamy butter, yellow one);
Once the butter is melted you can then add the sage as in the following image.
When the sage is slightly fried (after 3-5 minutes) add the drained pasta and mix together.
Now, season with grated Parmesan cheese on top.
Then serve dividing the farfalle pasta between 4 deep plates.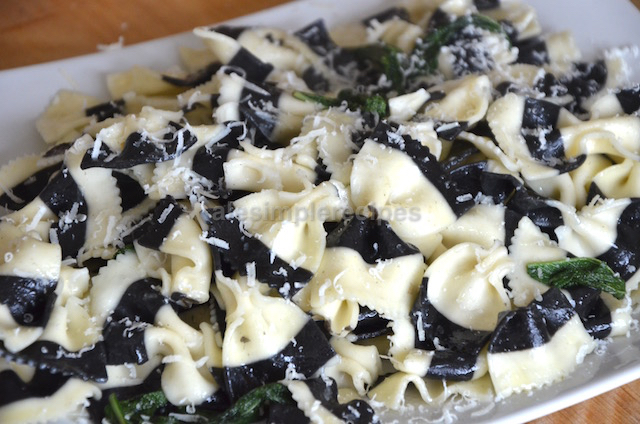 Oh, and one more thing: let me know what do you think!