This artichoke quiche shows how good perfectly artichokes are with puff pastry. I love how this artichoke quiche looks after it is baked, the golden brown pastry and the artichoke colour which celebrate the flavours of Parmesan and Pecorino cheese.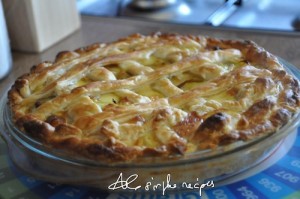 In Italy, artichoke hearts in oil are the usual vegetable for 'spring' section of the 'Four Seasons' pizza (with olives for summer, mushrooms for autumn, and prosciutto for winter.  At the same time, stuffed artichoke recipes are abundant. A common Italian stuffing uses a mixture of bread crumbs, garlic, oregano, parsley, grated cheese, and prosciutto or sausage. A bit of the mixture is then pushed into the spaces at the base of each leaf and into the center before boiling or steaming
Today I am using artichoke hearts to prepare as said an artichoke quiche .
Preparation 30 min
Cooking 15 min for cooking leeks + 30 min for baking the quiche
Serving 4-6 people
Ingredients:
6-8 artichoke hearts
4 eggs
3 leeks
150 gr pecorino cheese
salt
pepper
1 puffy pastry
Preparation 
For the preparation you have cook the leeks first. So the leeks used for this artichoke quiche are made following the technique explained in my previous post here.

Tip: 

you can buy ready puff pastry in any lidl store.  Nowadays, you can find artichoke hearts in Lidl too, I used Lidl's artichoke hearts to prepare my artichoke quiche. 
Tip:  I cooked the leeks with butter and then secondly I added the broth vegetable stock cube, not too much but just enough to let them cook until tender.
One leeks are cooked- set aside
Then in a large bowl add 4 eggs
Beat the eggs well until liquid
Pour into the bowl the grated Parmesan cheese, Pecorino cheese, salt, pepper, artichoke hearts, leeks.
Tip: you can change the quantities. You can increase them if you want more cheese for example. My quantities depends on how much puff pastry I was using and how big was my baking tin.
Mix well
Add salt and pepper
Mix the ingredients again very well
Take the puff pastry off the fridge
Turn the pastry over and drop into the buttered mould. Use your fingertips to make it adhere to the side and base the mould, and push it right into the corners and the base, using a small piece of well- floured pastry to tamp it in.
Fill it with the filling prepared
Prepare then the strips of puff pastry and interwoven them until you cover the artichoke quiche.
Bake to 200 degree for 30-40 minutes until golden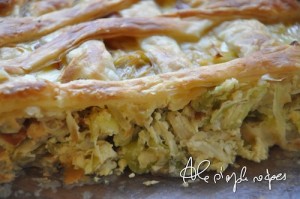 Hope you will like my artichoke quiche as much I did.
To keep updated with my new recipes why do not  follow me on my Facebook page?
Ale Simple Recipes