This Apricot Tart shows how good perfectly apricots are with this homemade sweet shortcrust pastry. Italian apricots are such a treat so when we use them in our baking we want a dessert that brings out their sweet and acidic flavor. I believe this tart does just that. It takes fresh home made apricot jam with apricots pieces still intact. I love how this apricot tart looks after it is baked, the golden brown pastry and the apricot colour which celebrate the colour of Summer. Very tasty served with a small scoop of vanilla ice cream.
The pastry used for this apricot tart is made following the technique explained in my previous post : Homemade sweet shortcrust pastry. The secret to its success is to bake it in a hot oven so that the pastry bakes quickly and prick the base of the pastry case with a fork.
Ingredients: 
homemade shortcrust pastry
homemade apricot jam
Preparation of apricot tart 
Lightly dust your work surface and rolling pin with flour.
Roll out the pastry to a round, 2-3 cm thick and 5-7 cm larger than the tin, depending on the depth.
Give to the pastry a quarter turn and flip it over from time to time.
Tip: This will prevent it from sticking and helps to keep it aerated.
Continue until the pastry is the size and shape required.
Lift the pastry on the rolling pin and unroll it over the tin ring.
Lightly press the pastry into the edges of the tin and into the flutes (if appropriate)
Trim off the excess pastry with a knife.
Press a fork around the sides to lift the edges slightly.
Prick all over the pastry base with a fork, to release trapped air, before baking directly.
Bake the base until it is fully cooked.
Lift off the flan ring, transfer the pastry case to a wire rack and leave to cool.
Delicately fill the pastry case with the apricot jam
Slice the apricot tart onto a serving plate

Serve apricot tart alone or with vanilla ice cream. The combination of vanilla flavour and apricot tart is amazing.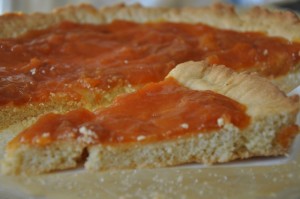 To keep updated with my new recipes why do not  follow me on my Facebook page?
Ale Simple Recipes